Custom Screenprinting
Get your name out there!!!!!
Custom ink screen printing is an economical way to advertise for your organization, or to increase your team's "visibility"!
Call us at 814-476-7908 and a screen print specialist will be happy to assist you.

What you will need ......
You will need to send the image of what you want screen printed in a PDF, JPEG, or EPS file to graphics@gssafetyproducts.com, please include the following information in the email…
The appropriate attachment of the image you want printed on the garments. The actual size of the image should be same as the desired print size.

Your complete contact information and the order number from when your order was placed online. Be sure to include a detailed description of what you want on your garments, including: the size of the logo or lettering, font style, placement location on the garment, ect.
We will reply email a DIGITAL PROOF APPROVAL, Once that artwork is approved by you, we will print on the garments, and you will receive a UPS tracking email when your order ships.
Please allow 14-20 business days (M-F, excluding holidays) for your printed garments to arrive.

Please note that screen printed garments are not eligible for return, except in the event of a manufacturer defect of the garment itself. Please make sure that the DIGITAL PROOF APPROVAL matches how you want the print to appear on the garments before replying with an APPROVAL.
If you have any additional questions about the custom ink screen printing process please email graphics@gssafetyproducts.com,

OTHER PRINT OPTIONS ARE AVAILABLE! - THESE INCLUDE:
CUSTOM VINYL HEAT TRANSFER (ANY COLOR)

CUSTOM REFLECTIVE VINYL HEAT TRANSFER
**Vinyl Printing is more expensive, but results in a print that looks better, and will last the life of the garment! Regular screen printed ink may wash out or peel off after several washes. If you are interested in vinyl printing, please call 814-476-7908, or email a request for a quote to graphics@gssafetyproducts.com.
Custom vinyl print cost is based on the size, color selection, complexity of the print that you want to have printed on your garments. The volume of prints that you are having done is also a factor in calculating the cost.
Please note that vinyl printing is only recommended for microfiber or solid twill material ..... shirts, jackets, sweatshirts, and solid (non mesh) safety vests.
Example: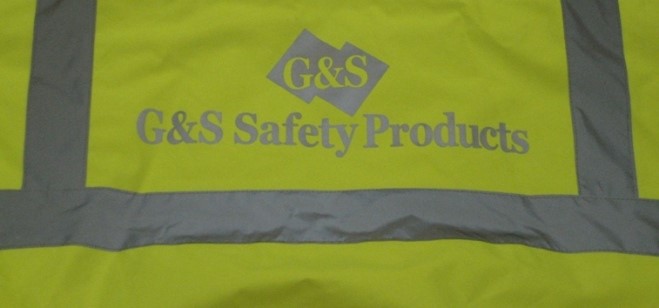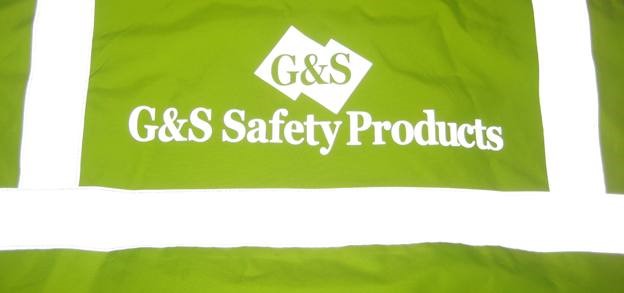 Normal Light Reflective vinyl print as viewed in low light
conditions, and exposed to a flash of light, eg headlights.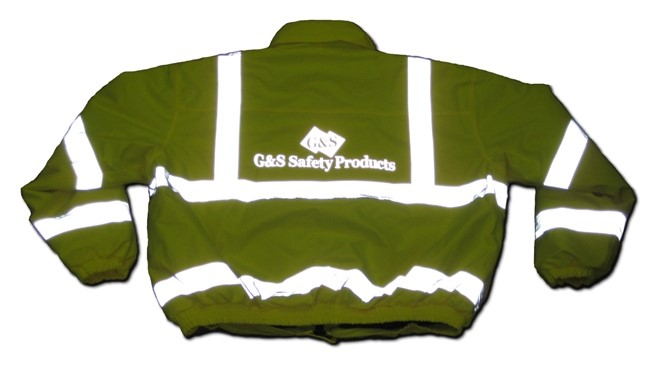 This material has the same properties as the glass bead technology used in Retro reflective tape.